FREE eBay auction watch software (eBay countdown timer)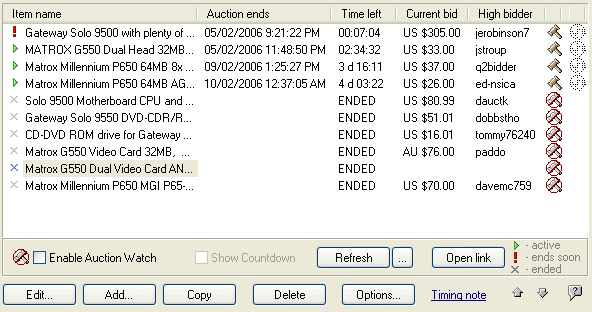 TimeLeft - FREE eBay auction watch software (eBay countdown timer) .
Auction Watch module helps you to watch and manage your online auctions (it can be eBay or any other auctions).

All auctions are presented in one convenient Auction List, where you can see all necessary information:
- Auction status
- Item name
- Date and time when auction ends
- Time left: how long is left till the auction end
- Current bid
- High bidder

You can setup your auction watch to open auction link, play sound and display message before auction deadline.

| | | |
| --- | --- | --- |
| Also, you can activate a countdown that displays Item Name and how long is left till auction end. | | |

Automatic update
You can retrieve the most recent information about your auction (like Current Bid, High Bidder) by pressing Refresh button.
The other way is to setup TimeLeft to do it automatically. In this case TimeLeft downloads the current information about your auctions and updates Auction List every 30 minutes (this value can be changed).

Quick auction add

| | | |
| --- | --- | --- |
| Quick Add Button: TimeLeft can integrate Quick Add Button Into your browser toolbar, so you can open auctions in your browser and add them into TimeLeft auction list quickly just by pressing Quick Add button. | | |
Supported browsers: Internet Explorer, Mozilla Firefox (see setup instructions for the Firefox)


| | | |
| --- | --- | --- |
| Auction Basket Window: Auction Basket is a small stay-on-top window. You can add auctions quickly by dragging links from your browser and dropping them into the Auction Basket window | | |

Time Adjustment
This is very important to have always accurate time on your PC when watching online auctions.
You can setup TimeLeft to adjust time automatically every day (even every hour): see Time Synchronization and Timing Note


See also Main Window|Auction, Auction Settings


---
This module is an additional option to TimeLeft Deluxe and can be purchased here.

TimeLeft Free



TimeLeft FREE never expires!


TimeLeft Deluxe
Get even more features!



Our Clients
...